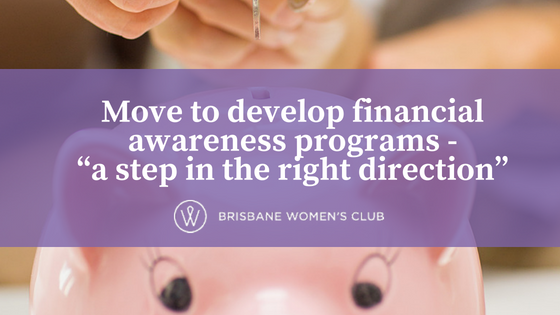 A move by the Australian Government to establish an independent body to educate Australians about financial literacy – notably for women, the young and elderly – has been applauded by Brisbane Women's Club as "another positive step to empower women and secure their financial future".
The new not-for-profit organisation to be founded under the plan will be responsible for managing and distributing $40 million in community benefit payments and a further $10 million in funds slated in the Federal Budget to develop women's financial capability.
The funds are to be used to administer grants and improve the financial knowledge and capabilities of Australians through education and development of financial products and services.
"Given our long-standing commitment to improving the lives of women, we are very pleased by this announcement for a new body focused on the issue," Brisbane Women's Club (BWC) Chair of the Board Robin Francis said.
"We have seen the success of financial literacy and financial awareness programs and how they change lives. Any funds which help these programs to be accessed by more people are very welcome indeed."
Financial Services Minister Kelly O'Dwyer said the new body would be a "game-changer" which would offer support for consumers and build the financial capability of all Australians.
"Financial literacy and capability is critical for economic empowerment, including for Australian women and young and older Australians,"Ms O'Dwyer said.
A key part of our mission here at Brisbane Women's Club (BWC) is to advocate for programs and initiatives which improve the financial awareness and financial decision-making of Queensland women.
BWC holds a seat on the Economic Security 4 Women Council (ES4W), a national alliance of women's organisations "united in the belief that economic wellbeing and financial security are essential for women and will enable women of all ages to have an equal place in society".
BWC has also initiated the Invest in Yourself Campaign to help women develop self-awareness around their financial situation and to gain the right financial knowledge to help them be financially independent.
"For some women, understanding their finances comes easily and they seem to have it all under control," Robin said. "For other women, the world of finances is a confusing one indeed.
"If women are ever to be truly equal, they need to enjoy true financial independence and that starts with education for women from very basic introductory information to much more advanced guidance and advice.
"And in doing so, we supply the next generation with the tools for their financial independence and so it becomes self-perpetuating.  "Initiatives such as this latest one announced by the Turnbull Government go a long way to improving the financial health of individuals and the greater community and we all benefit from that."